FREQUENTLY ASKED QUESTIONS!
If you have a question and you can't find the answer below, please contact us and we will be happy to assist you!
The best and most reliable way to reach us is via email. We have access to emails 24/7, and will respond quickly. If you call our phone number 1-877-772-0022 and there is no answer, please leave a message: we are receiving all messages, and will get back to you.
We ship with Canada Post.
CAN I SEE SAMPLES BEFORE I BUY?
Yes! Head here for a sample pack from Stickernut.ca
WHAT KIND OF MATERIAL DO YOU USE FOR STICKERS?
We use 3M Scotchcal white vinyl in matte or glossy. We also have clear vinyl in matte or glossy. We also have reflective vinyl. All material is weather/UV proof and proven in Canadian winters! Click here for material specs and warranty information.
ARE YOUR STICKERS DISHWASHER AND MICROWAVE PROOF?
Yes.
CAN I WRITE ON YOUR STICKERS WITH PERMANENT MARKER?
Yes.
WHAT KIND OF MACHINE DO YOU USE?
We use a large format, 54" HP printer.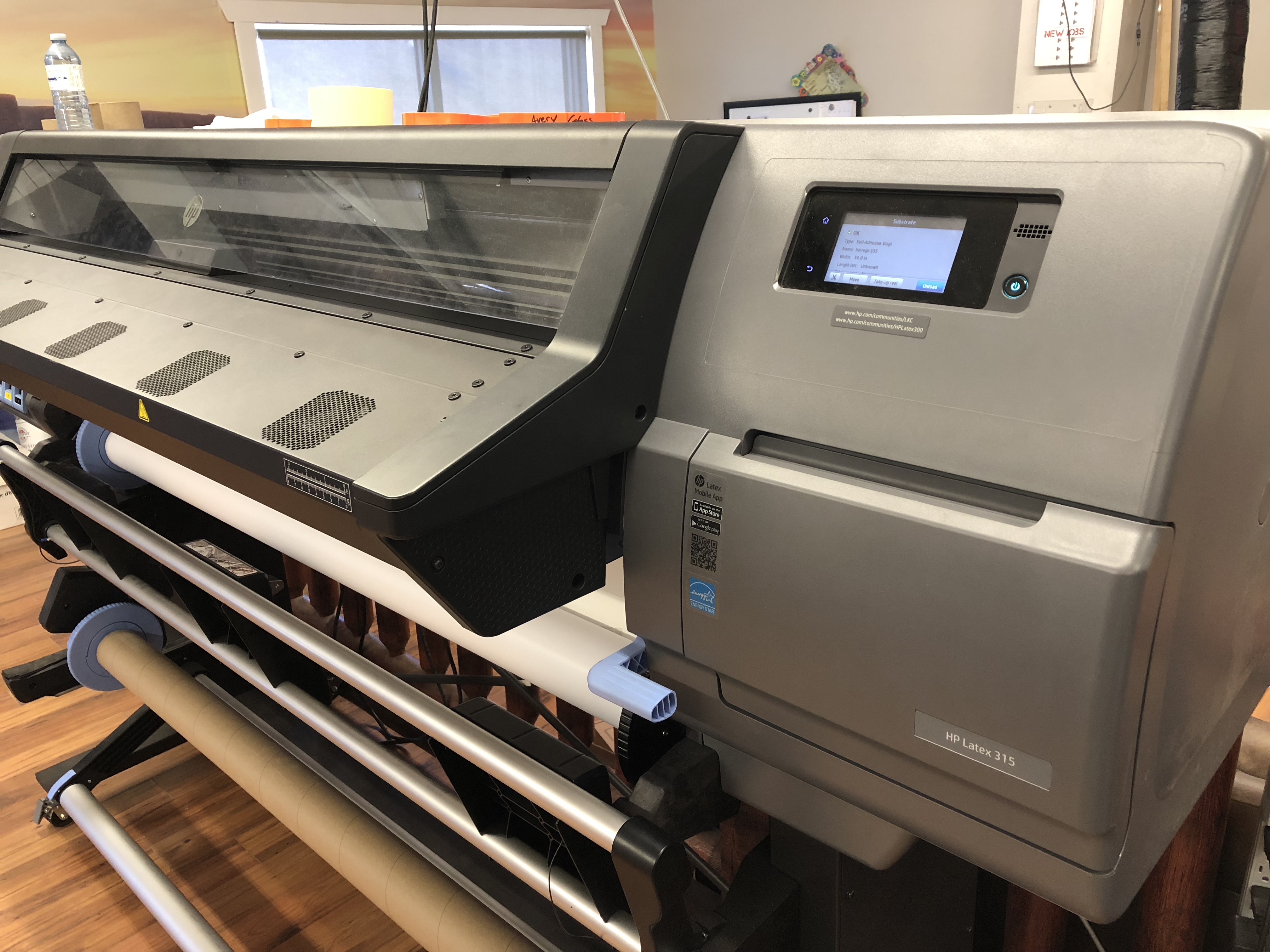 WHAT KIND OF INK DO YOU USE?
We care about our health, your health, and the health of the environment, so we use HP Latex ink that is tested and proven to be the safest for all. It is scratch/abrasion resistant, UV/weather resistant, and even withstands some types of chemicals. Click here for more information on the durability of our ink.
DO YOU LAMINATE?
No, as there is no need with our quality ink and vinyl.
DO YOU GUARANTEE COLOUR MATCHING?
No, we cannot. The only way to achieve this would be to send physical samples.
CAN I REQUEST A CHANGE AFTER I APPROVE MY PROOF?
No. After proof approval, it is immediately sent to print.
*It is important to print your proof, and look at it closely. There is a lot of room for error - and human error may occur. No one knows your logo or art like you do!
WHAT IF I MISS THE EMAILS AND DON'T APPROVE MY PROOF?
We will try our best to contact you if we do not receive an approval. If, after 7 days, we are unable to contact you, we will consider the proof approved and continue with printing. If there is something questionable or concerns that we are unable to print, we will give a refund.
CAN YOU PRINT RGB/PANTONE COLOURS?
Our printer prints using CMYK (Cyan, Magenta, Yellow, Black) ink, therefore RGB (Red, Green, Blue) and Pantone (universal colour guideline) colours will be converted to CMYK. This may cause slight colour shifts. When switching, we will get as close as possible but cannot guarantee a complete colour match. Check out this blog for more information about Pantone/RGB/CMYK
CAN YOU ADD TEXT TO MY STICKER DESIGN?
All stickers that have the pink highlighted area are able to have custom text inserted. Just indicate what you want the text to say, and we do the rest.
WHERE DO YOU SHIP FROM? WHAT SHIPPING COMPANY DO YOU USE?
Invermere, BC, Canada. We use Canada Post. See shipping times here. Our postal code is V0A 1K2.
DO YOU PRINT WHITE INK?
No.
WILL YOUR STICKERS ADHERE TO FABRIC?
Yes, but they are not designed for that and will eventually fall off.
IS THERE BRANDING ON THE BACK OF THE STICKERS?
No - the backing is plain white.
WHAT IS THE THICKNESS OF YOUR STICKERS?
The mil (thickness measurement of vinyl) is 2 mil.
CAN I ORDER CUSTOM STICKERS?
Yes - at www.stickernut.ca we do custom stickers.
WHAT CURRENCY DO YOU USE?
Canadian dollars.
CAN I SEE A PROOF BEFORE ORDERING?
Yes. We send proofs prior to printing all stickers. We will send up to 3 proofs per decal order at no charge.
DO I NEED TO APPROVE MY PROOF WHEN REORDERING?
Yes. It takes just a few minutes and can save a lot of confusion.
CAN I MODIFY MY QUANTITY DURING PROOFING?
Yes, anything can be changed during the proofing process.
HOW DO YOU REMOVE YOUR STICKERS?
Attempt using a hairdryer to loosen the adhesive. If glue still remains, soak area with rubbing alcohol for 5 minutes and it should wipe off with paper towel.
DO YOU PRINT FULL COLOUR?
We can print full colour, high resolution.
CAN YOU HELP ME DESIGN MY STICKER?
We could possibly help with designing at www.stickernut.ca
CAN I SUBSTITUTE MATERIALS?
For example: you want to order 1000 stickers, but want 500 matte and 500 glossy. YES we can do that!